WINDS OF WINTER, ONSLAUGHT ATTACK!
AERD'S LANDING, Ophiuchus System
Estimare: Extractus Null
Est. Population pre-freeze:  19,000,000 Mechanicus
Est. population Post freeze: 6,200 Cryonaughts
Capitol: Laestris City (cryonaught trading town in massive Admech Research Facility)
You have met your foe on the icy plains of Aerd's landing. Both of you are investigating the frozen ruins of the lost Mechanicus facilities spread across the planet.

This mission is to represent your landing force attempting to use brute force and shock to smash through the enemy defensive lines.

The secrets of this icy tomb-world will be yours, let none stand in your way!!!!

*Important: you may play with any of the three deployment maps, or any of the three from the 40k rulebook. I am using variations on missions from the horus heresy, if you have missions suggestions you would like to see used, please pm me*

This mission is OPTIONAL. you don't HAVE to play it, but it is worth a point for both players if you do. You cannot claim the point more than once, unless you play other ppl. Then go wild, till ya email me about how broken it is!


LINK TO MISSION IF YOU WANT TO PRINT OUT OR HAVE ON TABLET
Mission 1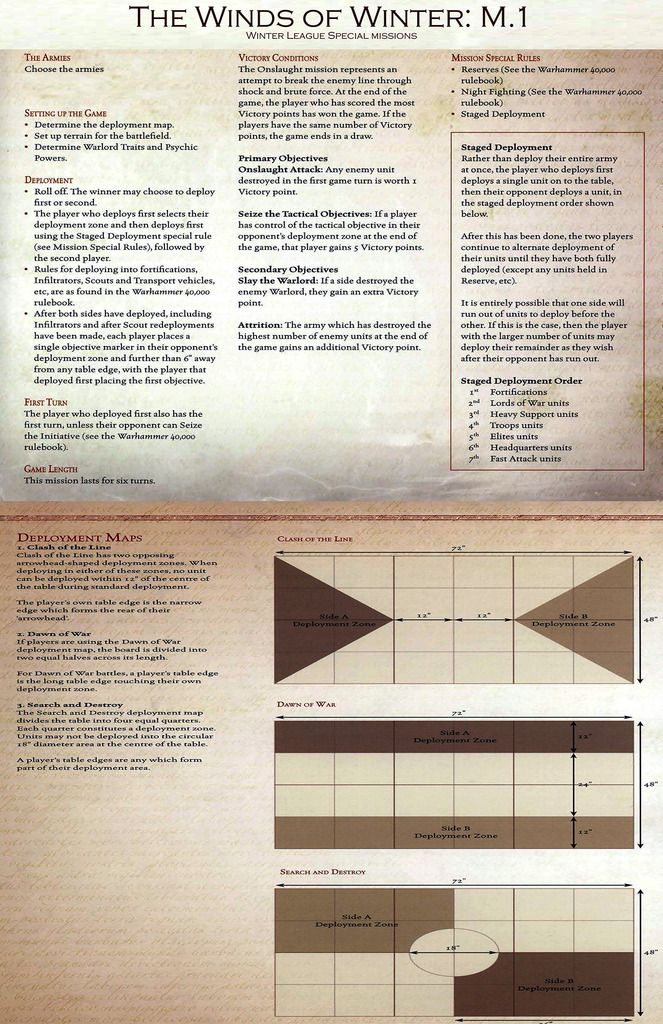 Good luck, and have fun!

Paz

Lord of Titan




Posts

: 2741


Join date

: 2008-03-12



I thought that mission looked familiar lol, you sneaky dog you lol!!

da bear

Grandmaster




Posts

: 465


Join date

: 2011-06-30



There are so many cool, well written age of darkness missions that it would be a crime NOT to try some

Paz

Lord of Titan




Posts

: 2741


Join date

: 2008-03-12



Absolutely, going to add a cool element to the league

da bear

Grandmaster




Posts

: 465


Join date

: 2011-06-30



Wes and i played the mission last night!

A Blood Angels strike force rolling out through a hab-facility just outside the capitol came across a Deathwatch Blackspear strike force and battle was joined between the once-brothers.

The mission was pretty fun! The slog to get to the primary enemy objective meant that it was a very focussed battle, with Wes' scouting elements having to spend most of the battle running inward to get tot the fighting.

In the end, even though my impressive deathwatch terminator librarian fulminated the crap out of some blood angels, the sons of Baal were able to annhilate the inquisition forces, only a lone culexus slunk away to lick his wounds.


Good game Wes!

Paz

Lord of Titan




Posts

: 2741


Join date

: 2008-03-12



Thanks Paz. It was an interesting mission, and a nice change of focus and pace to the standard maelstrom missions. As a word of advice to those who plan to face the Deathwatch; the frag cannons are horrifying. There is no way to prepare for them other than to stay out of template range or have armour 13. They are just pure evil.
It will be interesting to see how they play once you mechanize them.

Thanks for the game and the effort on the league theme. It's shaping up to be a winner.


WesleyNP

Sage




Posts

: 71


Join date

: 2016-04-13


Age

: 43


Location

: Saskatoon



Hello, I am just getting back into warhammer 40k, I was wondering how competitive this league gets? I also might have some unpainted units (oh the shame!) would I be able to play in the league with them?

jobau

Familiar




Posts

: 5


Join date

: 2016-06-08



We all want to win and will play to do so, but it is more of making sure we all have a good time and the league is a good excuse to do so, and as for unpainted models (shame on you) none of us really care as long as they are assembled. $5 sign up at the den and set up your games on the forum and have a good time

Daemonkin

Mystic




Posts

: 133


Join date

: 2011-08-29


Age

: 39


Location

: Saskatoon




Paz

Lord of Titan




Posts

: 2741


Join date

: 2008-03-12



Similar topics
---
Permissions in this forum:
You
cannot
reply to topics in this forum