Due to apathy and procrastination, progress has been slow on my space marine army. However, due to a recent burst of progress my motivation is peaking! I chose the blue and orange colour scheme for a few reasons. First, I have never seen another chapter with a similar scheme. Second, the colours contrast well because they are opposites on the colour wheel. Third, go Oilers! The list is the one detailed in the army list section called: Drop podding ironclad fun!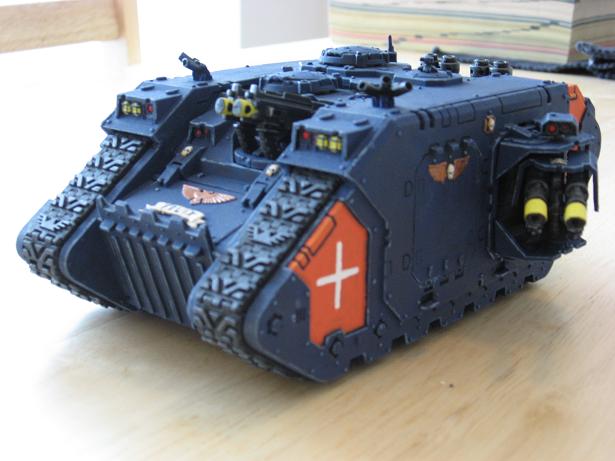 This is the land raider. I think they are great in the new rules. I can't see playing a marine army without one.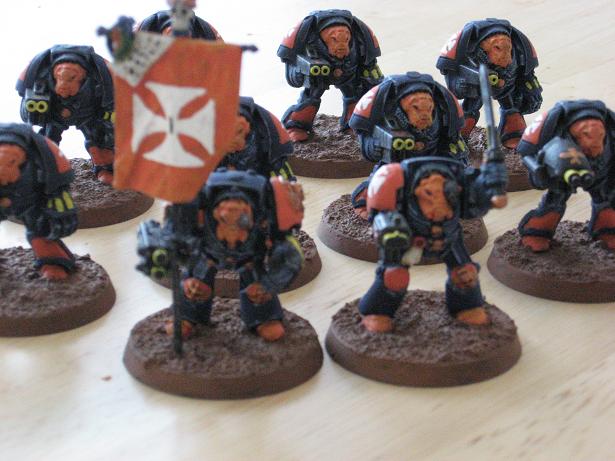 My 10 man terminator squad. I like banners, and I'm going to try to have one in almost every squad. They are done except for the bases. Note the old school Space Hulk vets!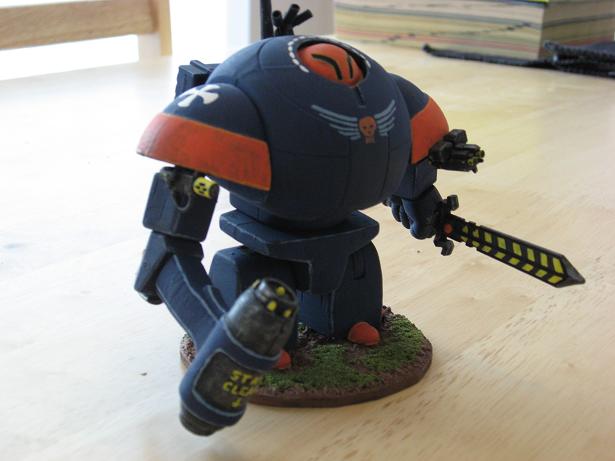 My ironclad. The body is a Yu-Gi-Oh toy, while the close combat weapon and seismic hammer are Dollarama specials. I'm pretty happy with how he turned out. I built him before the new codex came out and he originally was a venerable. I think his large size and tough look make him a far better ironclad, so I ripped off his assault cannon and put on the hammer this week.
This is the rest. I have 10 marines done, and 20 to go. The scout bikes are next on the block, along with some tactical guys. I scratch built my chaplain and librarian out of regular dudes, and I'll post some pics of them once they get some paint. Thanks for looking!
Hey Tim, things are looking good! I like's those old termies..

I think the dread definitely fits as an Ironclad. You'll have to come out for some games one night!
System Commander




Posts

: 4695


Join date

: 2008-02-26



the pictures do not do the models justice.
seeing them at the den today , they looked great.
in the pictures they looked meh!
now get painting those orks!

Crusader




Posts

: 281


Join date

: 2008-03-11



A bit more progress has been made. I finished one of the Tactical Squads and am currently completing the second. I only have about 10 more infantry models to paint! I like how my scratch built Chaplain turned out. His Rosarius is a chopped down shoulder pad and his power weapon-thingy is an old power axe with Space Wolf skulls on either side. The pic of the scout bikers didn't turn out too well, but I'm probably not going to use them much anyways.
Tac Squad One (all have scopes for their weapons befitting their status as marksmen)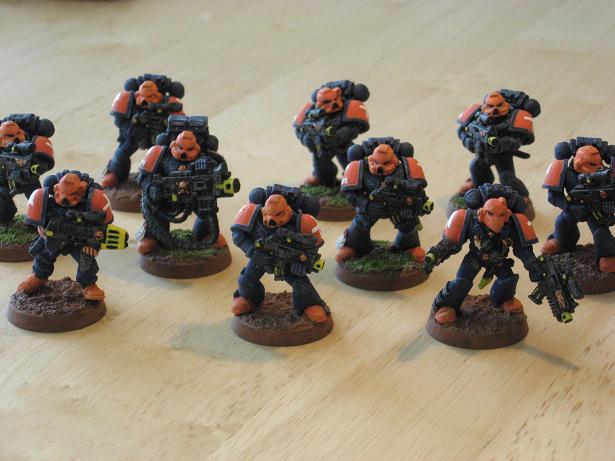 Chaplain (Chaplains rock. 'Nuff said)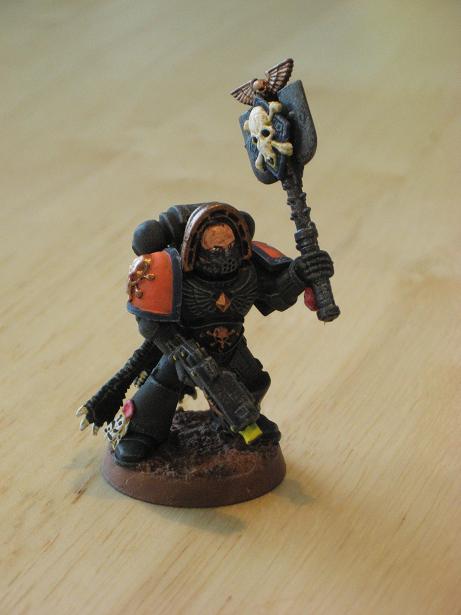 Scout Bikes (Just imagine 3 of them)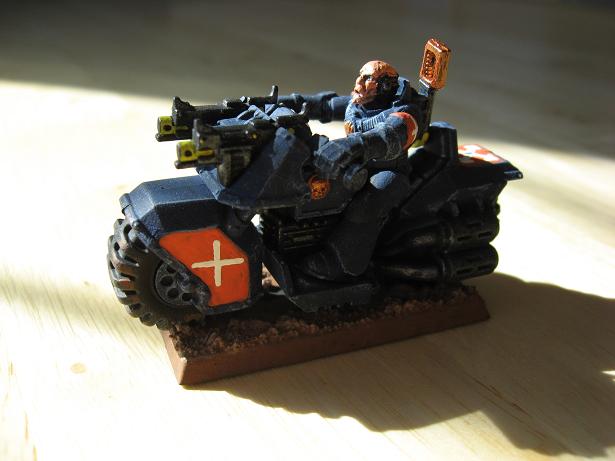 Last edited by Timbo on Sun Apr 05, 2009 5:07 pm; edited 1 time in total
Great work Tim, I see your making good progress on them. Yeah, that last picture came out really weird. Its funny, but I remember one of my first 40K games was against you and your imperial guard. I dont remember much abut the details of the army, but I do remember that the tip of most of thw weapons, or maybe just the special weapons were all painted yellow..

That must be the Miller signature.
System Commander




Posts

: 4695


Join date

: 2008-02-26



Yep, I do enjoy a yellow-tipped weapon. I'll probably resist the urge with the Eldar though.
More stuff completed! I'm getting so cocky now I'm even painting stuff that wasn't in the original list, like this Whirlwind:
Another Tactical squad done: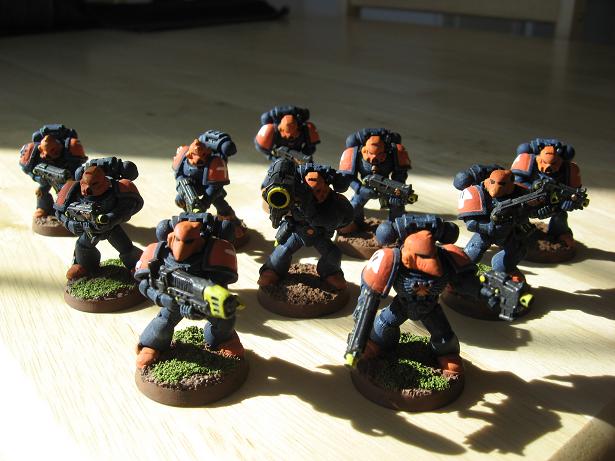 And one of the ugliest figures Games Workshop has ever produced, the Space Hulk terminator librarian: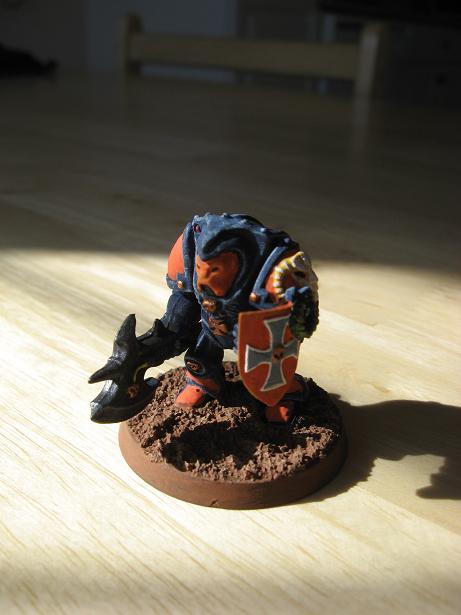 All I have left is one Drop Pod (I just started on it) and ten marines!

---
Permissions in this forum:
You
cannot
reply to topics in this forum