I just have a quick question on the new warpstorm table (which the internet is abuzz with) can someone quote me result 11? I just would like to see the exact text for it.
Lord of Titan




Posts

: 2536


Join date

: 2012-07-01


Location

: Rosetown



Daemonic posession*. A randomly selected non-vehicle enemy Psyker without the Daemon special rule must pass a Leadership test on 3d6 or be removed as a casualty with no saves of any kind allowed. if the test is failed, the place a herald of Khrone, Tzeench, Nurgle or Slaanesh (you choose) anywhere within 6" of the slain Psyker, more than 1" from any unit and more than 1" from impassable terrain. This Herald cannot charge this turn, but otherwise acts normally and is under your control, If there are no eligible Psykers, this result is The Warp is Calm instead
*These units have no upgrades and award victory points as normal.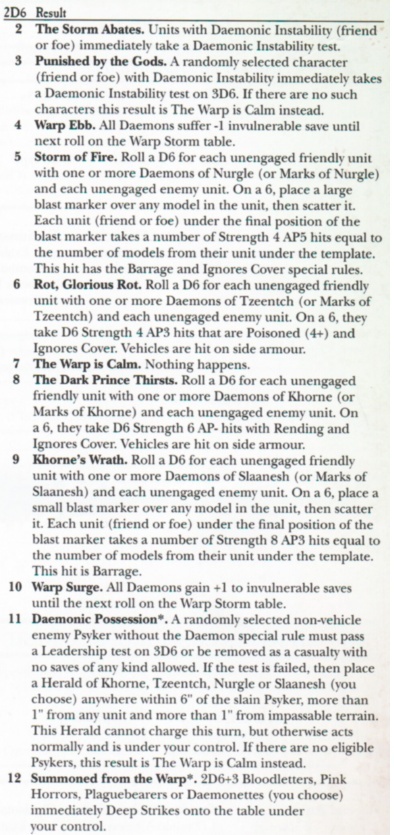 _________________
There is no 'overkill.' There is only 'open fire' and 'time to reload.'
Lord of Titan




Posts

: 2465


Join date

: 2011-08-19


Age

: 39


Location

: Mike Bidyk



Randomly selecting a gk model will be a pain.

Getting a free herald though will be nice.

I just know my first roll on the that will be snake eyes.. Although my luck with daemons has been riding pretty high.
Wouldnt brotherhood of psykers apply? So just Characters (basically). Still too many, my GK would be random from 5-6 models.

_________________
Habes obdura si ista sis nugax - family proverb
Lord of Titan




Posts

: 3544


Join date

: 2011-01-26


Location

: Saskatoon



Thats a tough one.. Itd be good for the daemon player.. Get rid of the justicar. I dont think itd apply.. But I'd have to reread the brotherhood rule again.
here's the relevant paragraph:
if the grey knight unit suffers the perils of the warp, or any attack that specifically targets psykers, it's resolved against the Justicar or Knight of Flame if they are alive. if they are not, then its resolved against a random non-character model in the squad.
its the final bullet point paragraph in the Brotherhood of Psykers entry
Lord of Titan




Posts

: 2306


Join date

: 2010-11-12


Age

: 32


Location

: Saskatoon



Seems as if it does, in a vague way. It targets a psyker, but is it really an attack?

I'm really think it would be resolved against the justicar in this case. At leasy when playing a grey knights.. there shouldn't be any shortage of psykers. You'll have to rnumber all potential targets.. each strike squad, each terminator squad, every paladin, inqusitor, henchmen psyker, etc. Might have to bring some d12's or 20's along just to speed things in the event it happens. It'll probably beenfit grey knights.. at least you can spread it around and protect your leaders.. having one librarian, sorceror, daemon prince in an army will make them the only target.


Daemon Princes are immune to this, as they would be a psyker WITH the daemon special rule.

_________________
I use every part of the Space Buffalo.
Lord of Titan




Posts

: 3156


Join date

: 2011-11-27


Location

: Mai'laun



Oh yeah.. For sure. Sorry.. Was getting ahead of myself in my selection
I think its another one of those "oh, you rolled an 11, you win, lets start over and have a real game" type of things.

the random charts are annoying, i don't like them in my csm book, and i for sure don't like them in this book.

That being said, chances of rolling an 11 are only 5.5% and most psykers have 10 LD, so they have a 50% chance of passing the LD test anyway. That brings us down to a 2.75% chance per turn of this result happening AND turning out bad.

I can guarantee you though, that when it happens to You. your going to be frustrated. i know i will be. random shit you can't plan for takes the strategy out of the wargame =/

_________________
There is no 'overkill.' There is only 'open fire' and 'time to reload.'
Lord of Titan




Posts

: 2465


Join date

: 2011-08-19


Age

: 39


Location

: Mike Bidyk



It will be frustrating for the opponent, which I dont like at all.

However.. im im playing daemons and hes got GK, Ill be happy to take a pleeb for a free herald.. or if it takes out a minor psyker or something.. cool. Ill start to feel worse though when Ahriman or Eldrad dissapear on the first turn of the game before anyone has had a chance to move. Thats going to happen to someone, sometime.

That'll be the point where I wouldnt be surprised if my opponent, .. well, Ill concede.. wanna start again? I wouldnt blame him, and Ill be happy to oblige.


---
Permissions in this forum:
You
cannot
reply to topics in this forum