so at one point or another, most of us have come to the same problem;
i want to field a squad of 10 guys with all combi-melta/plasma/flamers but dont have 10 of the actual guns
. you could hunt the bits sites, paying between $3 and $12 a gun (combimeltas average $12 most sites). you could scratch build them, either by chopping the actual meltas if you have spares, or bought a sanguinary guard to get a pair of the melta pistols just for the barrels, but you're still SOL for plasma and flamer.
simple fact is, half the people that want these guns arent confident enough to convert/scratchbuild up to a dozen of the buggers. here's an easy solution.
during the last tournament, i got into a conversation on how to make molds of guns, and recently, bear mentioned he needs up to 30 combi weapons but doesn't wanna pay the premium these go for on bits sites. so i made these molds, which he's going to benefit from most as he's getting all the guns im making.
first, you need some of this stuff:
if you read my review on this stuff, you already know what it is and how it works. for those that havent, to sum up, its a stick you heat in boiling water for 2 minutes, then you can flatten it over something, let it set for 10 minutes, and it'll give you a perfect mold of whatever you want. you can then use green stuff to make copies, and not worry about the GS sticking to it because its made of a material GS wont bond to. so no messy vasoline, oil, etc as releasing agent.
Once your done with whatever you were making a mold of, just boil it again, and you can ball it up and reuse it. it has a work life of about 5 minutes after you boil it. after that, it starts to set and it's difficult to work. so if you mess up your master mold, just boil it and try again.
really easy stuff to use.
i'm using the Sternguard Veteran Weapons blister to get the guns i want, plus a combi plasma from the space marine captain box.
this first mold was done freehand, meaning i didnt make a frame to keep everything from squishing out and away when i pushed the gun in:
as you can see, it's not a bad mold, it caught the important details, but there was some sloping curves away from the gun edges where i wanted it to push up against the gun: the gun sight, barrel, ammo clip, butt of the gun. if you dont use a frame, this will happen every time.
here's a shot of the mold placed together, from each side:
if your wondering what the weird indent on the outsides of the molds are, that's from the tweezers i was holding it with; GS cures faster when exposed to heat. i tried to cure it faster, but the hair dryer heated the Instantmold faster than the GS, and the tweezers sunk in. DONT DO THIS. just let the stuff cure at its own pace.
here's 3 guns made from this mold: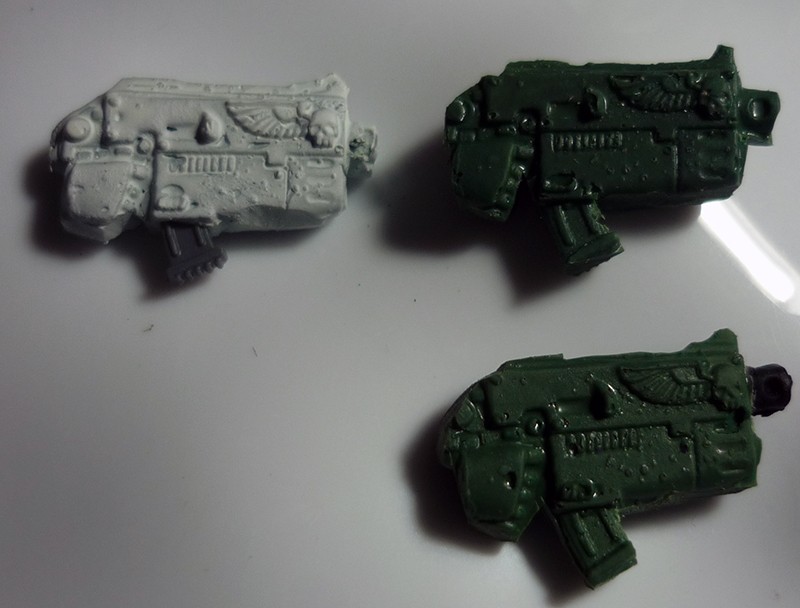 as you can see, not perfect reproductions, but then, they're still a bit better than Finecast is. though not by much.
now this is what you should do to make a better mold: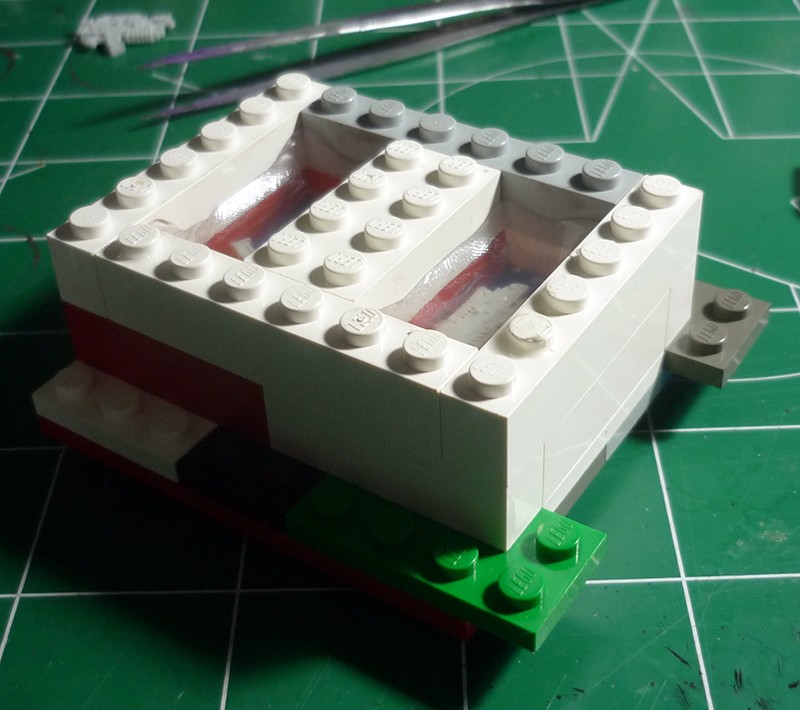 this made the master molds much more accurate: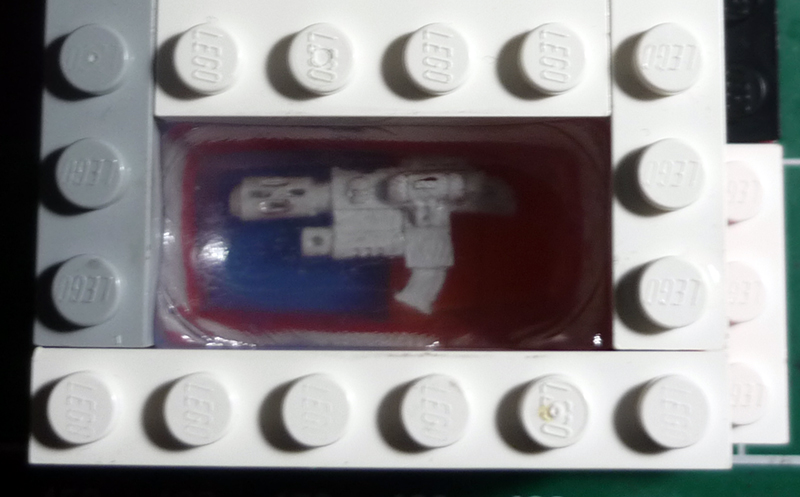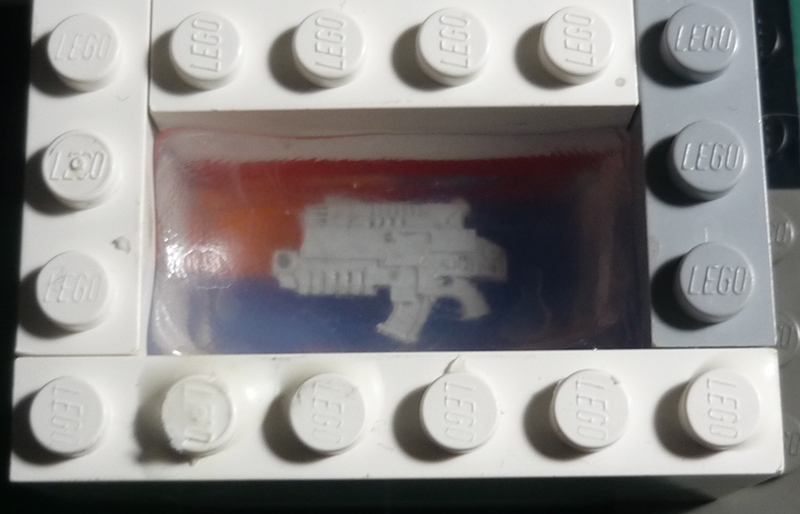 now, i said GS wont bond to InstantMold. but Instantmold
will
bond to itself if still soft. so wait 20 minutes before making the top half of the mold, just to be sure the bottom half wont stick to it and never come apart.
I waited 10 minutes, and the pieces shaped
very
well to the guns, but they were a little reluctant to come apart. so i'd suggest 20 minutes.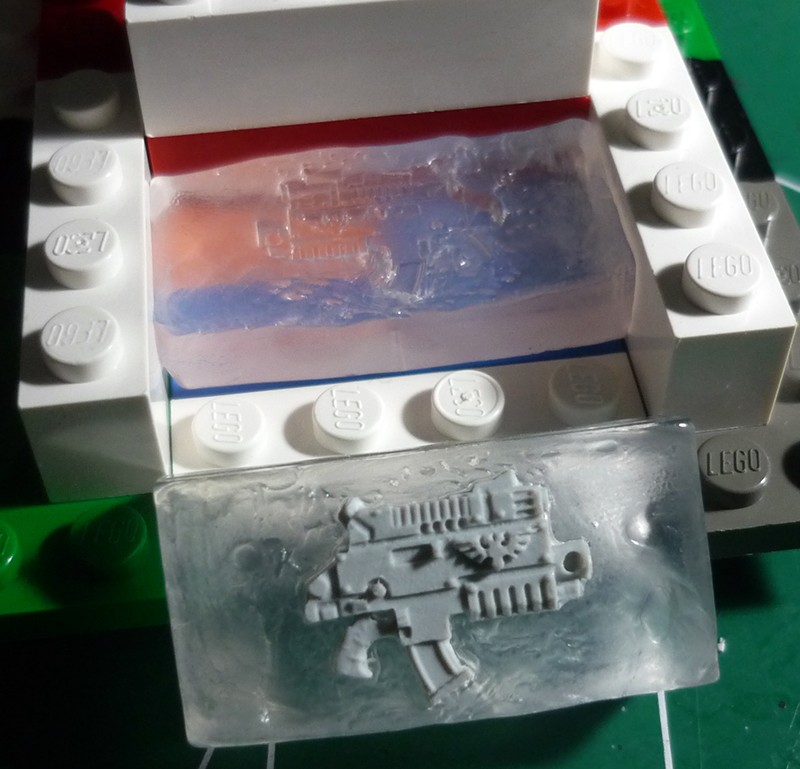 here's a shot with it washed to make it easier to see the details in the mold.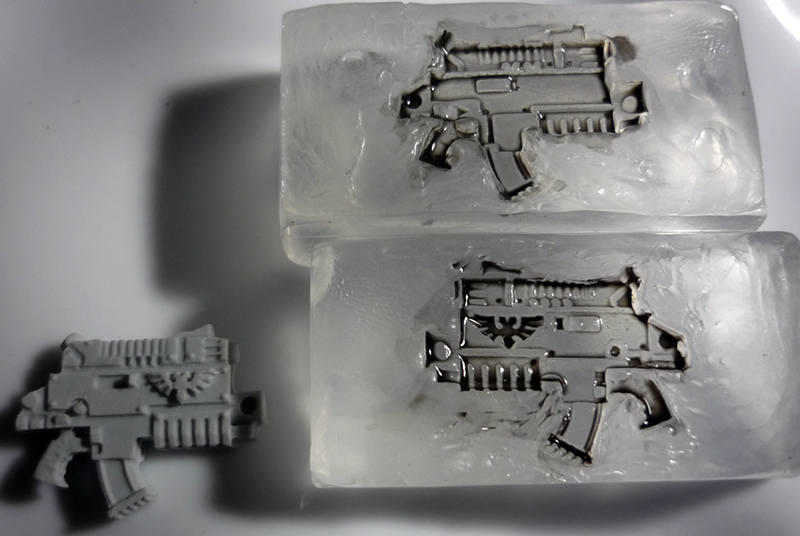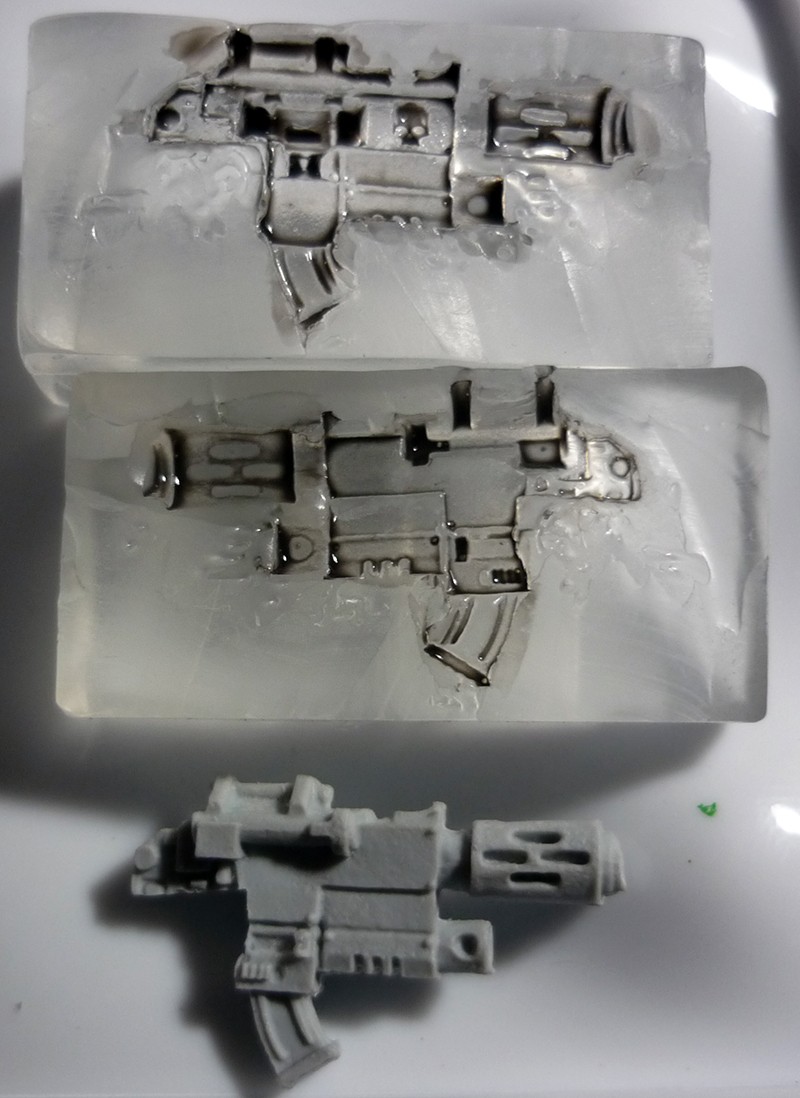 the new molds are still curing, but i'll post pics of the first batch of copies made from them later.
The second batch looks really.good. Oh.. Just realized the combi.melta at the bottom wasnt from a mold. Ill be curious tonsee how it turns out.
My buddy did this with a bunch a melta guns.. Them they released the packs and it wasnt worth it anymore. But for combiweapons, this is fantastic.
Darn GW..

System Commander




Posts

: 4695


Join date

: 2008-02-26



here's the results of the new molds, freshly decanted:
this is only 2.5 hours after i made them, so i cant clean off the flash for a few more hours or i'll distort the guns. but you get the general idea of the casting quality you can do. compared to the actual finecast originals used for these 2 guns, these i would say are perfect copies apart from the 'holes' in the gun barrels; this isnt as deep as the originals, but if your drilling out the barrels, it makes no difference.
System Commander




Posts

: 4695


Join date

: 2008-02-26



Looks really good. What did you do to make the green stuff fit the mold so well?
Lord of Titan




Posts

: 1054


Join date

: 2008-10-20


Age

: 31



nothing special really;

i start with making a 1/4 inch ball of GS, and push it in firmly with my thumbs into one side, and repeat for the other side.

afterwards, i push the two together, using that lego frame to keep it all lined up. this also allows you to push it firmly together.

then just let it set for 4-6 hours to get it set enough to decant.

the best part about instantmold is when your decanting the stuff, it's flexible enough you can just bend it a little and the bit pops right out.
I foresee myself using this in the near future to mass produce vents for my Mauler Fiend.

_________________
I use every part of the Space Buffalo.
I feel like an idiot for not realizing until just now that I can use this to make feeder tendril heads.

_________________
I use every part of the Space Buffalo.
I just gave this a whirl, the head curing whilst I was at work. Turned out great. Surprisingly easy process.
Now I don't have to use those off-brand heads!

_________________
I use every part of the Space Buffalo.


Similar topics
---
Permissions in this forum:
You
cannot
reply to topics in this forum