im thinking about making a xenos inquisitor conversion in power armour and the poison dagger thingy of "i'll always wound you on a 2+ despite being str 3" fun. i kinda liked the female inquisitors, but...the faces and the hair look so stupid that...no. just no. they need to make a redesign minus the stupid hair.
then i saw warmachine has this nice $12 model that would be easy to convert:
she's got a big sword thing sheathed on her butt, that can counts-as the poisoned weapon, and then i just gotta cut down the honking sniper rifle to something like a bolt pistol, or maybe a combi weapon, or conversion beamer, not really sure yet. with power armour and the dagger thing, that's only a 48pt HQ.
With some extra bits on the gun, even without cutting it down, that would be a really awesome conversion beamer. I mean, how bad ass would it be to freaking one hand a beamer?

_________________
I use every part of the Space Buffalo.
Lord of Titan




Posts

: 3156


Join date

: 2011-11-27


Location

: Mai'laun



i was thinking that too, even at 45pts, its still not even a 100pt HQ. and one with a powerful gun and a melee weapon that can wound you 3 times on a 2+.
You could always magnetize the gun arm, so that she's rocking a pistol for lists that you need that extra melee swing and the beamer for when you need to threaten the board.

Come to think of it, most pistol arms would be out stretched, thus having her gun arm pointing at something entirely different from what she is looking at. All very nonchalantly just offing someone before having to deal with the task at hand. This model has awesome conversion potential!

_________________
I use every part of the Space Buffalo.
Lord of Titan




Posts

: 3156


Join date

: 2011-11-27


Location

: Mai'laun



got some paint on her last night. since the model is true scaled, i had to use a laspistol to proxy a bolt pistol because it was too huge. the bolt pistol was like the size of her whole torso.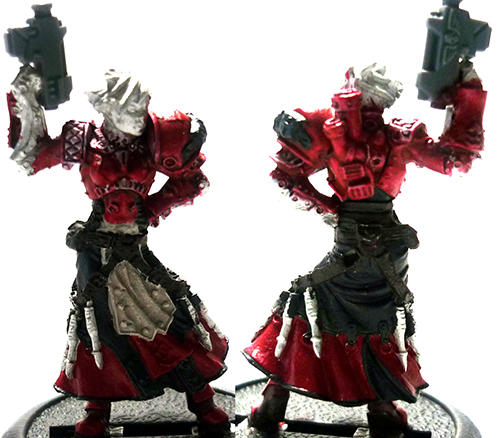 mark, if your looking and wondering how the 'white' fabric was done, its basecoat rakarth flesh, drybrush terminatus stone
Its a good looking inqusitor model.

Whats the white.fabric.though.. The patch on the front? maybe its my phone colour but it still looks very grey.. Im not pickng up white from it. The rest of the mini is.coming along.

Did you crank the contrast up in photoshop? I was iniially wondering why some of the mini was still bare metal.. But then realized that perhaps it was primed grey.. And just bright?
System Commander




Posts

: 4695


Join date

: 2008-02-26



nope, its bare metal. since im doing the armor plating in metallic glazes, it made the effect better.

the sash thing in front is the 'white' fabric. its more off white cause i wanted an aged look.
this should look a little better: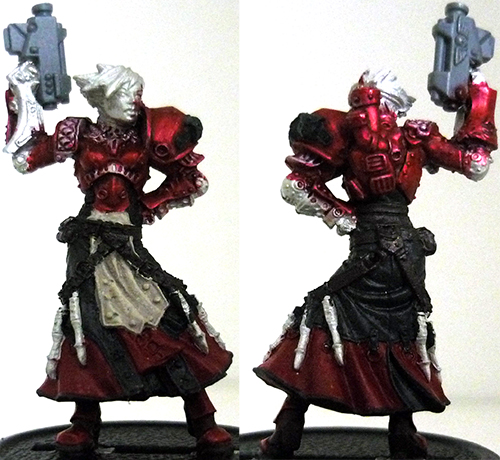 ---
Permissions in this forum:
You
cannot
reply to topics in this forum