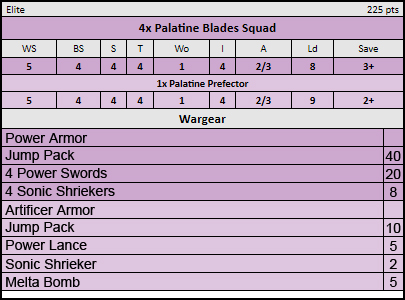 Palatine Blades are marked out from their fellow brothers by painting sections of their armor Platinum before battle. they're the best swordsmen of the legion, and before battle, they pick out the best in the strikeforce and make them into a squad to hunt worthy opponents.
rules-wise, they have a rule called Chosen Warriors. makes every guy in the squad type: Character. they also have Counter-Attack. they start with Charnabal Sabres and bolt pistols, and can take either power swords or power lances. Sonic Shriekers make them +1 Init the first turn of assault
Lord of Titan




Posts

: 2306


Join date

: 2010-11-12


Age

: 32


Location

: Saskatoon



seems cool, but i am unsure if they are worth 40 pts a model.

How much is a grey knight with teleport pack and Halberd? like 30?
31. No access to melta, though, or better armor for the Justicar.

_________________
I use every part of the Space Buffalo.
Lord of Titan




Posts

: 3156


Join date

: 2011-11-27


Location

: Mai'laun



Grey knights are a moot point as they didn't exist in 30k.

Also no crons, nids, sisters, etc.

_________________
Habes obdura si ista sis nugax - family proverb
Lord of Titan




Posts

: 3544


Join date

: 2011-01-26


Location

: Saskatoon



base cost runs...27pts per model.
pack makes them 37pts
sword makes it 42pts
sonic shrieker makes each 44pts

then the squad leader goes up to 49pts cause of the melta bomb.

if you put them in a land raider, you can make them cheaper, but im not fielding one of those in this army so the jump packs seemed like the best choice to get them into assaults. if i was going against non-MEQ, i'd also drop the power swords and sonic shriekers, and stick to the charnabal sabres since these give +1 to initiative when in a challenge (which every model can issue and accept btw)

overall, they make for a nice alternative to a command squad, being able to jump into an assault with Init 5 anti-MEQ weapons
Lord of Titan




Posts

: 2306


Join date

: 2010-11-12


Age

: 32


Location

: Saskatoon




---
Permissions in this forum:
You
cannot
reply to topics in this forum